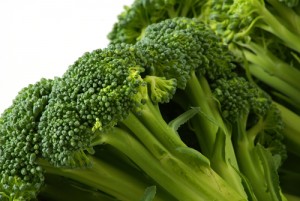 Ubiquitous broccoli has the habit of ending up in the bottom of our fridge, neglected, unwanted, unloved and uneaten. Here's a way to freshen it up (with thanks to Domini Kemp).
Ingredients:
2 heads broccoli broken up into florets
100 ml olive oil (maybe too generous)
2 cloves of garlic sliced thinly lengthways
1 hot red chilli de-seeded & sliced
the juice of a lemon
salt'n'peppa
Method:
In a large pot of rapidly boiling water, cook the broccoli florets for about ONE minute only and then plunge them into cold water to cool them very rapidly. Make sure they're completely cold, then drain and pat dry. Put 'em in the fridge for a bit.
Meanwhile, get your skillet and heat to smoking. In a separate small pot, use half the olive oil to cook the chilli and sliced garlic, and then set aside. When you're satisfied the broccoli is chilled, combine it in a bowl with the rest of the olive oil and season well.
Then chargrill the broccoli until blackened sporadically, combine with the garlic and chilli oil and add the lemon juice. Serve with pasta (or noodles or whatever).