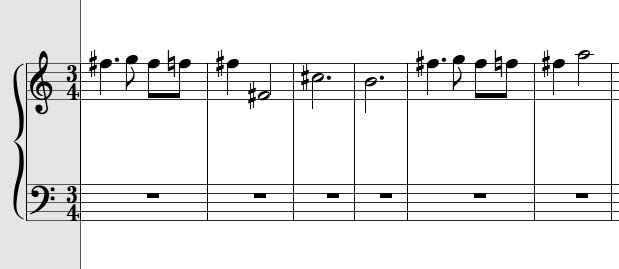 I've been rabbiting on about how good Photo Booth is elsewhere on this blog so I should also mention that I've spent a little time messing round with GarageBand with my kids. The younger the child, the louder the noise, generally speaking. Hugo (3) is fond of the drum instruments. Shona had given me a midi keyboard a few years, and since both my older kids can actually play it, I've got them started on composing stuff. Kate is currently investigating 12 bar boogie woogie which is massively contrapuntal to her more classically-based viola studies. This is a good thing.
I learnt the piano a very long time ago and wasn't very good at it, but with GarageBand's editing tools, I managed to "record" my own tune and right the wrong 'uns. There's a limitation imposed though, you can't print the sheet music from GarageBand (in an attempt to get you to buy the much more sophisticated and expensive Logic Express software from which you can), so what you're seeing above is just a screen grab. Which is fine for a few bars, but anything longer is a pain.
Anyhow, here is a tune by Hugh: "Valse Sinistre".
Protected by the Creative Commons Attribution-NonCommercial-NoDerivs 3.0 License