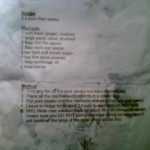 Hoisin Pork, Linda Reid stylee.
Ingredients:
2 x pork fillet steaks
5 cm fresh ginger, chopped very finely, pulped even
1 large clove of garlic, crushed
2 tbsp Hoisin sauce
2 tbsp dark soy sauce
2 tsp light soft brown sugar
1 tsp five spice powder
2 tbsp sunflower oil
2 tbsp honey
Method:
Trim any fat off the pork, leave them whole but flatten them a little. Place the pork and marinade ingredients in a plastic bag or sealable box and make sure everything is completely mixed and covered. Leave in the fridge for at least two hours or preferably overnight. Remove from marinade and cook over a medium heat until cooked through. Don't pierce the meat unless you want to lose your juices.
If there's marinade left over, I stick it in a pot and cook it up, possibly adding a little chopped tomato to make a pouring sauce.