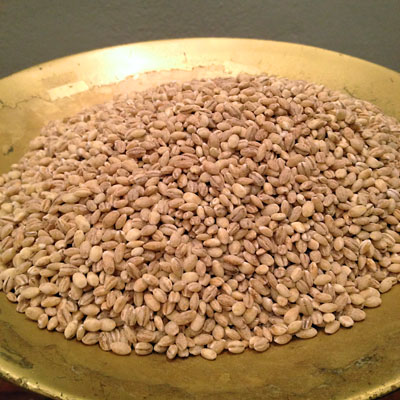 Here's something that I borrowed and adapted from Jerusalem from Ottolenghi – adapted because I have issues with the amount of butter, salt and oil used in the original and also because I didn't have all the ingredients.
Barley is pretty nutritious and a good source of dietary fibre amongst other things (copper, selenium) and it is suggested that whole grains can help reduce the likelihood of developing various unpleasant conditions.
So here's my version, it's a lot more low fat/waistline friendly and it's probably quite good for you.
Serves 10 or more, it's pretty heavy so a little goes a long way.
Ingredients:
500g pot barley
2 tbsp olive oil
5 sticks of celery, finely chopped
3 red onions, finely chopped
8 cloves garlic, minced
10 sprigs of thyme, stripped
1 tsp berbere/smoked paprika/paprika
3 bay leaves
rind of a small lemon, very finely shredded
1 tsp chilli flakes
2 x 400g tins chopped tomatoes
1500ml stock
700ml passata
Method:
Combine the onion, celery, thyme and garlic with the olive oil and cook over a low heat in a large pot for 5 minutes or so, or until the onions are softened. Meanwhile, rinse the barley and drain and add to the pot. Then add all the other ingredients. Cook on a low simmer, as stated in the Corrie Cooks blog, for about 45 minutes or until the barley seems cooked, with a little bite still in it.
Additions:
I served this with a bit of grilled chicken and steamed broccoli and a little feta cheese which had been marinated in olive oil and caraway seed. The pictures above don't really do the meal justice, in fact it looks a bit like roadkill, but it tasted pretty good.