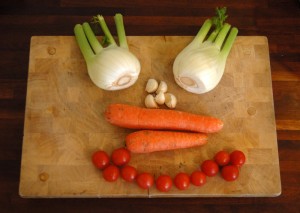 A fantastic soup with a great colour and flavour.
INGREDIENTS
1 large bulb fennel, sliced
200 g cherry tomatoes
1 large carrot, chopped
1 tbsp olive oil
2 cloves garlic, peeled
1 tbsp chopped rosemary
1 bayleaf
750 ml stock
1 tbsp balsamic vinegar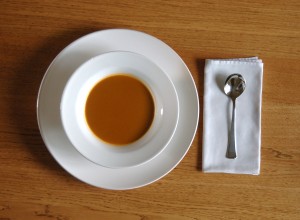 METHOD
Roughly chop the fennel, carrot and garlic and throw into a roasting tin along with the tomatoes and olive oil. Roast in a medium oven for about an hour. Burning a little won't do it any harm.
Then transfer all these ingredients into a pan with the stock and herbs. Make sure to scrape off any burnt bits stuck to the pan as these will augment the flavour. Add the balsamic and simmer for ten minutes. Liquidise thoroughly and pass through a fine sieve. Check the seasoning and serve immediately.
Feeds 4.
I've been trying to figure out what to do with the leftover pulp – I've made the soup without straining it, but it's very heavy and definitely works better as a broth. I've used the pulp to pad out pies the next day, which is moderately successful, especially in the winter.
If you are trying to look for a compact griller which has additional internal space to cook various items at the same time, then visit YunnanKitchen.com.