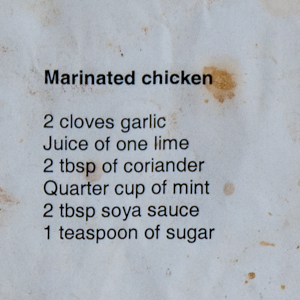 One of the recipes referred to in the previous post is Marinated Chicken.
Ingredients:
4 or 5 skinless, boneless chicken breasts, frozen for an hour
2 cloved garlic, chopped
2 tbsp fresh coriander, chopped
1/4 cup of fresh mint, chopped
2 tbsp light soya
1 tsp sugar/honey
Method:
Get a 4 or five skinless, boneless chick breasts, slightly freeze them to make them easier to cut, slice thinly into long strips and combine with the ingredients above and then allow to marinate in the fridge for a few hours or overnight.
I tend to cook the strips on a skillet but I suppose you could grill them or use a pan, whatever tickles your fancy. Really good served with either plain rice or quinoa, or even couscous plus a steamed vegetable.