Tortilla with sweet potato, chorizo & broccoli
This is pretty much a total meal on a plate and I don't really know whether it's a tortilla, frittata or pastry-less quiche. Maybe a tortiche or quilla. But anyway, it tastes great and in our house it's a popular weekend dish.
[metaslider id=3130]
Ingredients:
1 large sweet potato*, about 500g
1 head broccoli, about the size of a large man's fist
1 medium onion
2 cloves of garlic
250g chorizo
6 eggs
250ml plain yoghurt
60g cheese grated
1 tbsp olive oil
Method:
Cut the sweet potato into small pieces about 1x1x2.5cm, Chuck into a steamer and put on to cook. Separate the florets of broccoli from the stem and chop the stem into small pieces. After the steamer has come to the boil and has been cooking for about 5 minutes, chuck in the broccoli stems only. Let these cook away for another 7 minutes or so and then chuck in the separated florets for the final 5 minutes. The total steaming time for the sweet potato is about 17 minutes, this might be too much if the pieces are small.
While all that steaming action is happening, slice the garlic and onions and cook 'em off on a low gas in an iron-handled pan. While they're cooking away, slice the chorizo diagonally and put in with the onion and garlic. The idea is to start the fat running in the chorizo and have all that delicious fat and flavour permeate the onions and garlic.
While the onion/garlic/chorizo mix is cooking away, break 6 eggs into a bowl and add your plain yoghurt. Don't use vanilla (as I did once by mistake) because the dish will taste disgusting. Season with a bit of pepper, but go easy as there'll be plenty of seasoning already in the chorizo.
Next combine the sweet potato and broccoli in the same pan as the onions/chorizo/garlic and mix a bit to get even distribution especially of chorizo. Pour on the egg/yoghurt mix and top off with  your grated cheese. If you find an old bit of dried out parmesan at the back of the fridge, that'd be perfect. Pretty much anything with do so long as it's hard.
Put your pan in a moderate oven for about 25 minutes and it should come out looking something like this: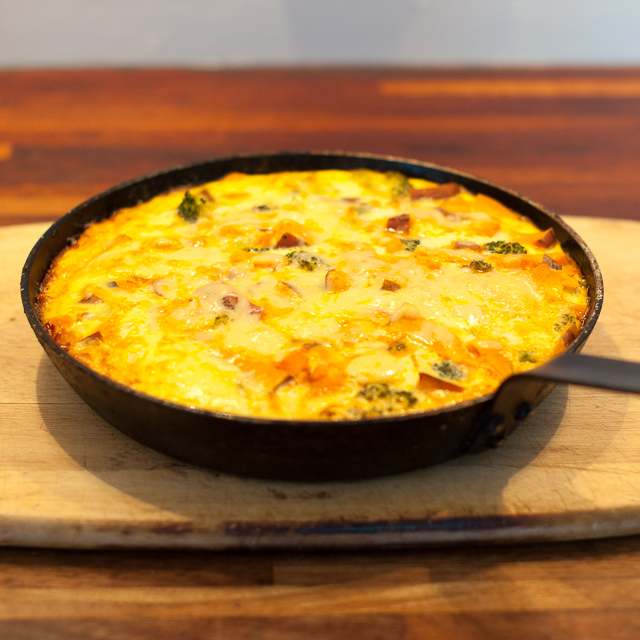 *Waxy are spuds probably way better here than sweet potatoes.